Jump to navigation

section-header-default
typeof="foaf:Image" src="https://ourenvironment.berkeley.edu/sites/ourenvironment.berkeley.edu/files/Alice_Kelly_web2.jpg" width="1440″ height="415″ alt="" />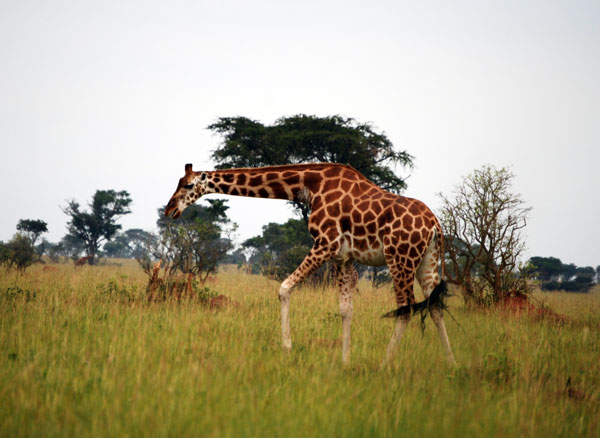 The Division of Ecosystem Sciences (ES) is an intellectual collaboration among biological and physical scientists who endeavor to understand and sustain the ecosystems of the world. Our ambition is to develop an integrated understanding of ecosystem function and to provide society with the scientific means to face growing environmental challenges. We share an inclusive definition of an ecosystem that acknowledges the range of spatial and temporal scales involved in understanding dynamic biophysical systems.
Given our origins (faculty from forestry, soil science, and plant pathology departments), we focus on the ecology of terrestrial communities – forests, savannas, and grasslands – and their interface with aquatic ecosystems (e.g., estuaries, riparian zones, and other wetlands).
Although our specific disciplines are diverse, a common interest is discovering the interactions among the hydrosphere, atmosphere, and geosphere. The spatial scales of study extend from molecules to the globe, and the temporal scales span from a few micro-seconds to millions of years. Humans are key components, both as external controls on ecosystem processes, and as organisms dependent on ecosystem services.
Research and Stewardship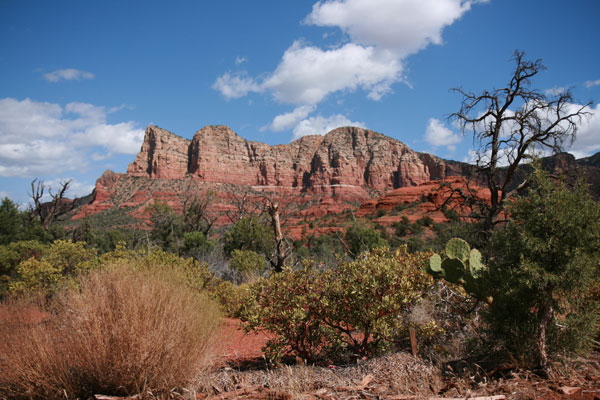 The Division is committed to informing the stewardship of working landscapes, the conservation of threatened species, and the restoration of degraded habitats with the best science.
Cooperative Extension specialists, whose mission is to extend and apply science, are fully integrated into the intellectual life of the Division.
But the Division does more than just extend the results of basic research. In many instances, the challenges faced by resource managers motivate the research enterprise. We wrestle with the "messiness" of environmental issues and try to address them in their full complexity.
ES scientists often lead collaborative projects that seek to engage stakeholders in the process of finding solutions to contemporary environmental problems.
Examples include:
The Sierra Nevada Adaptive Management Project
The California Fire Science Consortium
and the emerging Biodiversity and Livelihoods in Africa Program (recently funded by NSF's Dynamics of Coupled Natural and Human Systems program)
The ES Faculty
The ES faculty provide undergraduate instruction across the departmental curriculum as well across the campus. Our senior faculty teach the required introductory class in Environmental Sciences as well as the environmental science course for non-majors. We lead the majors in Environmental Sciences  and  Forestry and Natural Resources .
Despite declining financial support, we prioritize opportunities for hands-on learning by offering summer field classes and by incorporating week-end field trips during the academic year.
In addition, we deliver many unique classes that serve the wider campus community. For example, we teach courses such as conservation biology, atmospheric pollution, ecosystem ecology, and biometeorology that serve a diverse student body pursuing majors in integrative biology, environmental engineering, and environmental economics and policy.
Collaboration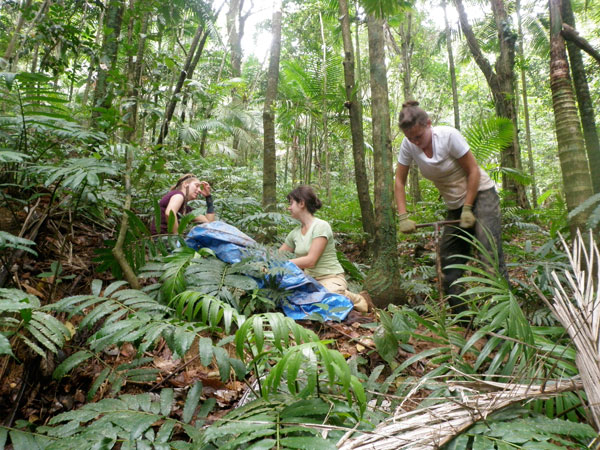 Studying soils in Puerto Rico. Photo by Simona Balan
In 1995, an esteemed group of like-minded colleagues articulated a vision for an academic unit at UC Berkeley that sought to integrate the biological and physical sciences in order to better understand the biosphere.
Today in ES we have made great strides toward realizing this vision. We have soil scientists working to conserve the diversity of soils and conservation biologists defining habitats in terms of soil texture and fertility.
The integration of different scientific perspectives in an ecosystem framework has provided a wealth of new insights and raised new questions, providing unique opportunities for multi- and interdisciplinary research and education. Because so many of the biophysical phenomena studied by ES faculty have human components, we must also collaborate with social scientists.
To build a sustainable future, we must work closely with our internationally renowned colleagues specializing in public policy, environmental economics, and social justice within our Department and our College.
Learn about our Graduate Program
Faculty & Specialists in Ecosystem Sciences

@ESPM UC Berkeley
1 day ago
While nursing offspring is common among mammals, it isnt often associated with invertebrates. However, new researc… https://t.co/XYfHtwQk7h

@ESPM UC Berkeley
2 days ago
"Wildfire is an essential part of many forest ecosystems, but two major factors have produced the catastrophic fire… https://t.co/6cY8dasCuI

@ESPM UC Berkeley
3 days ago
Interested in getting a local and sustainably-harvested Christmas tree this year? The Cal Forestry Club will be hos… https://t.co/8QRaS6UJjr

@ESPM UC Berkeley
3 days ago
RT @RandallIgnacio: Tomorrow! (11/30): Non-academic jobs panel. Speakers from @BeyondAcademia, UCB CareerCenter, alumni working on #scicomm…

@ESPM UC Berkeley
4 days ago
RT @pgonzaleztweet: "Two major factors have produced the catastrophic fires we're seeing in the western U.S.—old policies and human-caused…
| | | | | | | |
| --- | --- | --- | --- | --- | --- | --- |
| | | | | | See the world (and its fossils) with UCMP's field notes. | |
SEARCH | GLOSSARY | SITE MAP
| | |
| --- | --- |
| | |
| | Find out what's new at UCMP |
| | |

Research – updated information on UCMP research and facilities.

Collections – accessing the online collections , policies for using the collections , the archival collections and more.

Education – undergraduate / graduate programs and K-12 resources .

Public programs – information on UCMP activities and an event calendar .

Online exhibits – special exhibits on geologic time , the history of life , UCMP field research , and more.

Blog – stay tuned to the latest UCMP and paleontology news. And follow UCMP on Facebook .

People – faculty curators, staff and students at UCMP.

About UCMP – visitor information , public events , UCMP News and more.

PaleoBios is online !

Volume 35, 2018:
New article by T.A. Monson , published 08/24/18;
New article by R.L. Squires , published 08/22/18;
New article by E. Lessner et al , published 07/21/18

| | | |
| --- | --- | --- |
| | OTHER UCMP WEBSITES: | |

The Paleontology Portal
a gateway to North American paleontology resources
Understanding Evolution
your one-stop source for information on evolution
Understanding Science
how science really works

2018 Spring Break Field Trip
November 6, 2018

Four states, nine days, 2,850 miles, 48 hours cumulative driving and enumerable sponges. The Field Methods in Paleobiology Course, also known as the 2018 Spring Break Field Trip, from March 24, 2018 to April 1, 2018, was a whirlwind tour of the Southwest with IB Faculty/UCMP Curators Cindy Looy, Ivo Duijnstee and Seth Finnegan leading […]

UCMP now has over 100,000 cataloged invertebrate specimens
August 29, 2018

Thanks to our recent digitization projects, UCMP now has topped 100,000 cataloged invertebrate specimens! At least 6500 of these are fossil insects, millipedes and spiders digitized by Dr. Diane Erwin and undergraduate students under Berkeley's Fossil Insect PEN. Helping make all this possible was the work by the following participants: Dr. Marwa Wafeeq Abdelkhaliq Ibraheem […]

Russell Waines' stromatoporoid collection
July 13, 2018

Russell H. Waines was a geologist who dedicated most of his life to ancient sponges, the stromatoporoids, which were one of the most important reef builders during the Paleozoic.

EPICC Virtual Field Experiences
March 23, 2018

The EPICC project (Eastern Pacific Invertebrate Communities of the Cenozoic) launches the first suite of virtual fieldwork experience (VFE) modules set in the Kettleman Hills near Coalinga in Central California.

Understanding Global Change Workshop, April 28-29
March 22, 2018

The University of California Museum of Paleontology is hosting a teacher professional development program to support the teaching of the global change topics.

UCMP paleobiologists shed new light on ozone shield failure, forest sterility, and mass extinction
February 7, 2018

Members of the Looy Lab – Jeff Benca, Ivo Duijnstee, and Cindy Looy – co-authored a paper in the journal Science Advances.  It details exciting new findings from experimental research on the effects on UV-B induced stresses on forest decline during the end-Permian extinction. Read more in the University press release. View the video:

A new destination for disaster enthusiasts
January 5, 2018

The Cretaceous-Paleogene (K-Pg or K-T) mass extinction — the event in which the non-avian dinosaurs, along with about 70% of all species in the fossil record went extinct — was probably caused by the Chicxulub meteor impact in Yucatán, México. However, scientists have long wondered about the massive volcanic eruptions that were occurring in northwestern […]

Exploring Annie Alexander's Saurian Expedition of 1905
December 15, 2017

Read Annie's illustrated chronicle (includes over 90 photographs) of a Nevada field expedition she financed and participated in 112 years ago. Also, see what the Nevada locality looks like today and learn more about the expedition's participants.

Read more about news and events at UCMP.
UCMP is part of:


UCMP is a part of:


HOME | SEARCH | GLOSSARY | SITE MAP | FREQUENTLY-ASKED QUESTIONS

ABOUT | CONTACT | COPYRIGHT | CREDITS | SUBSCRIBE/RSS

Other UCMP websites:
THE PALEONTOLOGY PORTAL | UNDERSTANDING EVOLUTION | UNDERSTANDING SCIENCE

UCMP is part of: