Home
Gardens

Edible Gardens
Gardening How To
Ornamental Gardens
Special Gardens

Houseplants

Specific Houseplants
General Houseplant Care

Problems

Plant Diseases
Environmental Problems
Garden Pests
> Weeds

Lawn Care

General Lawn Care
Lawn Substitutes
Specific Lawn Grasses

Composting

Composting Basics
Compost Ingredients
Composting Manures
Vermicomposting

Gardening Help

Our Blog
Gardening Companion Garden App
Ask A Gardening Question
School Community Garden Sponsorship
Find A Local Extension Office
Gardening Glossary
USDA Planting Zones
Rhipsalis Mistletoe Cactus: How To Grow Mistletoe Cactus Plants
Home
›
Ornamental Gardens

›

Cacti & Succulents

›

Rhipsalis
Rhipsalis Mistletoe Cactus: How To Grow Mistletoe Cactus Plants
Rhipsalis
By:
Bonnie L. Grant, Certified Urban Agriculturist
Image by salchu
Mistletoe cactus (Rhipsalis baccifera) is a tropical succulent native to rainforests in warm regions. The grownup name for this cactus is Rhipsalis mistletoe cactus. This cactus is found in Florida, Mexico and Brazil. Surprisingly, growing Rhipsalis requires shade to partial shade. While most cacti are found in hot, sunny, arid zones, mistletoe cactus is unique in its requirements for moisture and dim light. Take some tips on how to grow mistletoe cactus and enjoy this unique and entertaining looking plant.
About Rhipsalis Plants
Rhipsalis mistletoe cactus is also called chain cactus and grows epiphytically in its tropical forest home. The cactus has pencil thin succulent stems that may reach 6 feet in length. The thick skin of the stems does not produce thorns, but it does have almost imperceptible bumps on the surface of the plant.
These plants are found clinging to tree crotches, in branch nooks and nestled in rock crevasses. The Rhipsalis mistletoe cactus is easy to grow and has very minimal needs. It is perfect for the home interior in a northern or western window.
Requirements for Growing Rhipsalis
Mistletoe cactus is only hardy in USDA plant hardiness zones 9 to 10. The plant is most often found indoors and may simply be mounted on a piece of bark like an orchid or potted in a good cactus mix . If you are not prone to overwatering, you can plant the cactus in regular potting soil mixed with sand or other gritty material.
The plant is used to living in the understory of the forest, where temperatures are at least 60 F. (15 C.) and light is filtered through the high limbs. Growing Rhipsalis is practically foolproof as long as you mimic its native conditions.
How to Grow Mistletoe Cactus
Mistletoe cacti are easy to grow from cuttings. Seeds take way too long and they require very even environmental conditions. Take cuttings and let the severed end callus for a few days. Plant the callused end in a cactus mix or sand that has been lightly moistened. Cuttings root in two to six weeks.
Seeds can be started indoors in flats filled with sand and peat. Moisten the medium and plant the seeds 1/4-inch deep. Keep the medium barely moist until the plants germinate. Grow young plants in semi-shade and water when the surface of the soil is dry.
Mistletoe Cactus Care
Ensure that your mistletoe cactus is planted in well-drained soil. Potted plants benefit from a saucer filled with rocks and water to increase the ambient humidity in the home interior.
The plant rarely needs fertilizing and has few other needs except moderate light and even moisture. Fertilize with a half dilution of cactus food from April to September, once per month.
Water frequently in spring and summer, but suspend water in winter.
If any of the stems are damaged, you can trim them off with a sharp, sterile knife. Use these as cuttings to start new Rhipsalis mistletoe cactus.
Printer Friendly Version
This article was last updated on
Related Articles
Mistletoe Mistletoe Control Info: How To Get Rid Of Mistletoe Plants

Mistletoe Care Of Mistletoe: How To Grow Mistletoe Plants

General Cactus Care Cacti And Succulents Inside Your Home
Newest Articles
Indigo Plant
Indigo Seed Planting Guide: When To Sow Indigo Seeds

Accessible Gardens
Healing Garden Ideas – How To Make A Healing Garden

Greenhouses
Keeping Plants In A Cold Frame – Using Cold Frames For Overwintering Plants
You might also like…
Raspberries What Is Tobacco Streak Virus: Learn About Tobacco Streak Damage On Raspberry Plants

Peppers Jalapeno Peppers Too Mild: Reasons For No Heat In Jalapenos

Stromanthe Plants Stromanthe Plant Care: How To Grow A Stromanthe Triostar Plant

Tomatoes Tomato Plant Ripening: Can You Slow Down The Ripening Of Tomatoes?
Additional Help & Information
Read more articles about Rhipsalis .
Search for more information
Find more gardening information on Gardening Know How:
Visit Our Blog
Q & A
Navigate
Home
Gardens
Houseplants
Problems
Lawn Care
Composting
Gardening Help
Contact Us
About Us
Advertising
Gardening Writers
Media
Terms of Use
Privacy Policy
Stay Informed
Keep up to date with all that's happening in and around the garden. Sign up for our newsletter.
© 2018 Gardening Know How






0

Home > Plants > House plants > Foliage house plants > Rhipsalis baccifera
Rhipsalis baccifera
mistletoe cactus (syn Rhipsalis cassutha )

1 star
1 star
1 star
1 star
1 star

(0 reviews)
Write review



Buy Rhipsalis baccifera mistletoe cactus (syn Rhipsalis cassutha ): A shaggy-haired trailer

Position: bright but indirect light
Soil: good potting compost
Rate of growth: average to fast
Hardiness: tender (indoors only)
Current height: approximately 20cm (including pot)
Pot covers: choose a 14cm pot cover to give a good fit over the pot.

Slender succulent stems form a hair-like shaggy hummock that will cascade over the sides of a pot or hanging basket. This unique plant may produce mistletoe-like berries when mature, but it is for the fab foliage that it is best-loved. Please note that the pot in the photograph is not supplied with the plant (which is sent out in a black or brown plastic pot). They do however make excellent potted plants, and if you wish to pot yours up, we do have a wide range of pots on our website to choose from.

Home care: Water freely when in growth, but keep dryer in winter. Mist the leaves regularly with water to increase humidity and make sure the winter temperatures stay above 10°C. Repot each year.
Delivery options
Standard £4.99
Next / named day £6.99
Click & collect FREE
more info
Eventual height & spread
Goes well with
Spun metal planter – antique brass

£38.99

Empathy happy house plant food start me up

£2.99

Cotton planter – fresh sage

£4.99

Copper dune planter

£6.99

Baby Bio houseplant compost

£5.49

Aqua care self-watering plastic balls

£8.99

Reviews
Plant doctor
Crocus tips
Which house plant where?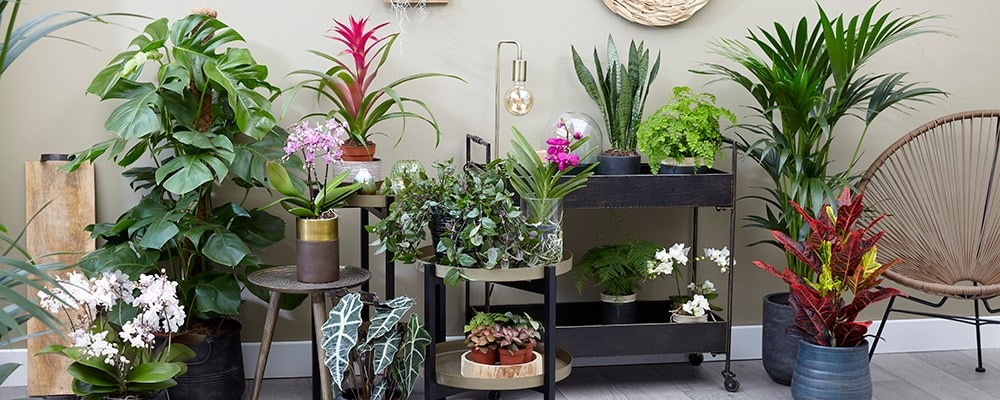 Which house plants you choose should depend on the environment you intend to keep them in, the space available, how much time you can spend preening them as well as your personal preference. For me, foliage house plants are the ticket, because they provid
Read full article
Here to help
Help hub
Customer Services for Frequently asked questions
Contact us
Shopping with us
Inspiration
Pot size guide
Our privacy policy
Our cookie policy
Gift vouchers
Gift wrapping
Crocus open days
Terms & conditions
Delivery information
Delivery areas and information
Returns
Click & Collect
5 year guarantee
About us
Our history
Affiliates
Press
Bespoke sourcing service
Chelsea Flower Show
Crocus at Dorney Court
About
Café
Events
Garden School
Copyright Crocus 2018