Skip to main content
Greater trochanteric pain syndrome: a review of diagnosis and management in general practice
Christopher JB Speers

and

Gurjit S Bhogal
Br J Gen Pract
2017;
67
(663):
479-480.
DOI:

https://doi.org/10.3399/bjgp17X693041
Article
Figures & Data
Info
eLetters
PDF
INTRODUCTION
Greater trochanteric pain syndrome (GTPS) is a common cause of lateral hip pain, seen more commonly in females between the ages of 40 and 60. 1 , 2 GTPS is the cause of hip pain in 10–20% of patients presenting with hip pain to primary care, with an incidence of 1.8 patients per 1000 per year. 1 – 3
Traditionally thought to be due to trochanteric bursitis, surgical, histological, and imaging studies have shown that GTPS is attributable to tendinopathy of the gluteus medius and/or minimus with or without coexisting bursal pathology. 1 , 4 , 5 Abnormal hip biomechanics are hypothesised to predispose to the development of these gluteal tendinopathies. Compressive forces cause impingement of the gluteal tendons and bursa onto the greater trochanter by the iliotibial band (ITB) as the hip moves into adduction. Compressive forces are increased where there is weakness of the hip abductor muscles due to lateral pelvic tilt. 6
DIAGNOSIS
Patients commonly present with lateral hip pain, localised to the greater trochanter, which is worse with weightbearing activities and side lying at night. 1 , 4 , 7 There may be associated radiation down the lateral thigh to the knee. Pain may progressively worsen over time and be triggered or exacerbated by sudden unaccustomed exercise, falls, prolonged weightbearing, or sporting overuse (commonly long-distance running). 4
This condition carries significant morbidity; pain on side lying and subsequent reduction in physical activity levels carry negative implications for general health, employment, and wellbeing. 6
It is important to accurately diagnose GTPS early, as delay and mismanagement can worsen prognosis due to progression to recalcitrant symptoms. The condition can be mistaken for common causes of hip pain including osteoarthritis of the hip, lumbar spine referred pain, and pelvic pathology. 4 , 7 The 'ability to put shoes and socks on' is a useful question to differentiate GTPS from hip osteoarthritis; patients with GTPS will not have difficulty with this task. 7
Single clinical tests for GTPS lack validity, but a combination of tests can be used to increase the diagnostic accuracy; during a GP consultation two that can be used are direct palpation and the single leg stance test. Direct palpation of the greater trochanter (the 'jump sign' as the person can be so tender they jump off the bed) carries a positive predictive value (PPV) of 83% (for positive magnetic resonance imaging [MRI] findings); 5 if there is no pain on palpation the patient is unlikely to have GTPS. The single leg stance test (pain within 30 seconds of standing on one leg) has a very high sensitivity and PPV (100%) for positive MRI findings; if positive the patient is likely to have GTPS. 5
Combining these two clinical tests with others can further increase diagnostic accuracy; the FABER test (flexion, abduction, and external rotation), FADER test (flexion, adduction, and external rotation), and ADD test (passive hip adduction in side lying) aim to increase tensile load on the gluteus medius and minimus tendons, causing a replication of the patient's pain. Other associated clinical findings may include positive Ober's test, positive step up and down test, and Trendelenburg gait positive. 4
A diagnostic flow chart summarising the key clinical features for the main differentials is shown in Figure 1 .
Download figure
Open in new tab
Download powerpoint
Figure 1.
A diagnostic flow chart summarising the key clinical features for the main differentials of GTPS. ER = external rotation. GTPS = greater trochanteric pain syndrome. IR = internal rotation. OA = osteoarthritis. SLS = single leg stance.
GTPS is acknowledged as being a clinical diagnosis, 1 but, in recalcitrant cases or those with a mixed clinical picture, imaging can be used to exclude other pathologies and confirm the diagnosis. Hip X-ray is a useful first-line investigation in primary care; 2 in patients with clinical symptoms and signs of GTPS this investigation is usually normal, but can exclude common differentials including osteoarthritis of the hip and fractures. 2
Ultrasound and MRI are useful second-line investigations to confirm the diagnosis. Diagnostic ultrasound is an imaging modality with a high PPV for diagnosis of GTPS. 2 Positive findings include fluid-filled and thickened trochanteric bursa with evidence of inflammation, tendinopathic echogenic findings, or tears within the gluteus medius or gluteus minimus tendons. 2 , 4 MRI is best utilised in secondary care settings. 2 MRI changes are commonly found in asymptomatic patients so interpretation of results must be clinically correlated. 7
TREATMENT
Optimal management of GTPS remains unclear, but the main goals of treatment should be to manage load and reduce compressive forces across greater trochanter, strengthen gluteal muscles, and treat comorbidities.
The majority of cases of GTPS can be successfully managed in primary care with weight loss, non-steroidal anti-inflammatory drugs (NSAIDs), targeted physical therapy, load modification, and optimisation of biomechanics. Recalcitrant cases may require onward referral to musculoskeletal experts such as a sport and exercise medicine physician, enabling further investigation and specialist management. Adjunct therapies include shock wave therapy and therapeutic ultrasound. Corticosteroid injection (CSI) can be effective in recalcitrant cases. Surgical intervention is reserved only for failed conservative management.
In the acute phase, pain can be managed with rest, ice, soft tissue therapy, taping, and medications (NSAIDs and/or paracetamol). Runners should avoid banked tracks or roads with excess camber. 4
Exercise and load management are the cornerstone of an effective tendinopathy management. 6 Physical therapy should be tailored to the individual patient and have a specific focus during the early stages on gluteal strength and control, and then, as hip control improves, muscle strengthening should target the hip abductors. 1 , 4 In addition, lumbopelvic postural control is vital to optimise biomechanics. To reduce compressive loads on the gluteal tendons, positions of excessive hip adduction (such as crossing legs and ITB stretching exercises) should be avoided, and at night patients can sleep with one or two pillows between their legs. 4
CSIs provide effective short-term analgesia in 70–75% of cases, although at 12 months clinical trials show no difference in outcome to a watch and wait approach. 1 , 4 , 6 A non-randomised trial compared CSI (75 patients) with a home exercise programme (76 patients); the success rates at 1 month were 75% and 7% respectively, but by 15 months were 48% for CSI and 80% for the home exercise group, highlighting only short-term benefits of CSI. 8 When used, CSI should provide an analgesic window in which the patient can fully engage with an effective rehabilitation programme involving targeted physiotherapy, load modification, and postural control. 4
Shock wave therapy has some promising results for its use in the treatment of GTPS; 4 however, due to a paucity of research evidence the National Institute for Health and Care Excellence (NICE) only recommends its use under special circumstances. 1 Further research is needed to determine the role for therapeutic ultrasound.
Surgical treatment for GTPS is reserved for recalcitrant cases that have failed optimal conservative management, and functional outcomes are generally good. 9 Procedures are dependent on underlying pathology but may involve lengthening or release of the ITB and fascia lata, gluteal tendon tear repair, minimally invasive endoscopic bursectomy, or open reduction trochanteric osteotomy. 2
Notes
Provenance
Freely submitted; externally peer reviewed.
Competing interests
The authors have declared no competing interests.
Discuss this article
Contribute and read comments about this article: bjgp.org/letters
Received

November 17, 2016.

Revision requested

December 22, 2016.

Accepted

February 7, 2017.
© British Journal of General Practice 2017
REFERENCES
1.

↵

Barratt

PA

,

Brookes

N

,

Newson

A

(2017) Conservative treatments for greater trochanteric pain syndrome: a systematic review. Br J Sports Med 51(2):97–104.

2.

↵

Chowdhury

R

,

Naaseri

S

,

Lee

J

,

Rajeswaran

G

(2014) Imaging and management of greater trochanteric pain syndrome. Postgrad Med J 90(1068):576–581.

3.

↵

Lievense

A

,

Bierma-Zeinstra

S

,

Schouten

B

,

et al.

(2005) Prognosis of trochanteric pain in primary care. Br J Gen Pract 55(512):199–204.

4.

↵

Brukner

P

,

Khan

K

(2012) Brukner and Khan's clinical sports medicine (McGraw-Hill, North Ryde, NSW).

5.

↵

Grimaldi

A

,

Mellor

R

,

Nicolson

P

,

et al.

(2016) Utility of clinical tests to diagnose MRI-confirmed gluteal tendinopathy in patients presenting with lateral hip pain. Br J Sports Med 51(6):519–524.

6.

↵

Mellor

R

,

Grimaldi

A

,

Wajswelner

H

,

et al.

(2016) Exercise and load modification versus corticosteroid injection versus 'wait and see' for persistent gluteus medius/minimus tendinopathy (the LEAP trial): a protocol for a randomised clinical trial. BMC Musculoskelet Disord 17:196.

7.

↵

Fearon

AM

,

Scarvell

JM

,

Neeman

T

,

et al.

(2013) Greater trochanteric pain syndrome: defining the syndrome. Br J Sports Med 47(10):649–653.

8.

↵

Rompe

JD

,

Segal

NA

,

Cacchio

A

,

et al.

(2009) Home training, local corticosteroid injection, or radial shock wave therapy for greater trochanter pain syndrome. Am J Sports Med 37(10):1981–1990.

9.

↵

Del Buono

A

,

Papalia

R

,

Khanduja

V

,

et al.

(2012) Management of the greater trochanteric pain syndrome: a systematic review. Br Med Bull 102:115–131.
View Abstract
Previous Article
Next Article
In this issue
Br J Gen Pract
Vol. 67
,
Issue 663
October 2017
Table of Contents
Index by author
Greater trochanteric pain syndrome: a review of diagnosis and management in general practice
Christopher JB Speers

,

Gurjit S Bhogal
Br J Gen Pract
2017;
67
(663):
479-480.
DOI:

10.3399/bjgp17X693041
Tweet Widget

Facebook Like

Google Plus One

Mendeley
Jump to section
Top
Article

INTRODUCTION
DIAGNOSIS
TREATMENT
Notes
REFERENCES

Figures & Data
Info
eLetters
PDF
More in this TOC Section
Tendinopathy in type 2 diabetes: a condition between specialties?

Management of cellulitis: current practice and research questions

Lateral elbow tendinosis: a review of diagnosis and management in general practice
Related Articles
Cited By…
@BJGPjournal's Likes on Twitter
British Journal of General Practice

More
News
CME
Drugs
Meetings
Multimedia
Charts
Clinical Resources
Calculators
Jobs
Clinical Pain Advisor Facebook
Clinical Pain Advisor Twitter
Clinical Pain Advisor LinkedIn
Clinical Pain Advisor


>

Topics


>

Acute Pain


>

Sports & Overuse Injury


>

Treatment Options for Greater Trochanteric Pain Syndrome

Tori Rodriguez, MA, LPC
October 11, 2016
Treatment Options for Greater Trochanteric Pain Syndrome
Share this content:
facebook
twitter
linkedin
google
Email
Print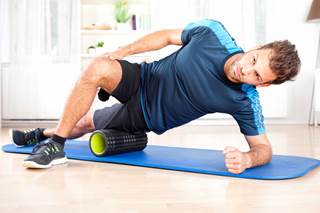 Patients with GTPS may use foam rollers to gently massage the affected area.
The understanding of the etiology of lateral hip pain has evolved significantly in recent years. Previously, patients presenting with such pain were typically given a diagnosis of trochanteric bursitis, which is now part of a broader diagnosis of greater trochanteric pain syndrome (GTPS). This category also includes external coxa saltans–also known as "snapping hip"–and tendinopathy of the gluteal medius and minimus. Two or more of these disorders often co-occur in patients.1
Though pain in the lateral hip commonly observed in runners, is often referred to as hip "bursitis," it often involves irritation of the hip abductor muscles.
"Bursitis is inflammation of tissue that reduces friction around a tendon, but practically, this problem involves the tendon insertion, such as the gluteus medius tendon," explained Anthony Luke MD, MPH, a professor of clinical orthopedics at the University of California, San Francisco (UCSF), and director of UCSF Primary Care Sports Medicine and the UCSF Human Performance Center.
"As such, the most effective treatment options typically include rest, ice and anti-inflammatory medications if the pain is significant and affecting one's ability to run," and surgery is rarely necessary, he told Clinical Pain Advisor.
Physical therapy is an essential component of treatment for this type of pain, including a course of strengthening and stretching exercises for the gluteal and hip abductor muscles, according to Dr Luke.
These may consist of stabilization exercises for the abdominals and lumbar spine that strengthen the core muscles, as well as various moves to stretch the hips, including gluteal, flexor, IT band, and hamstring stretching exercises. In addition, patients may use foam rollers to gently massage the affected area, though these should not be overused, as they can contribute to irritation.
"In patients who are failing conservative treatment options, localized steroid injection can help reduce pain symptoms short term, though it is critical to continue all the physical therapy exercises as the long-term treatment," said Dr Luke.
"Some sports medicine physicians will perform these injections under ultrasound guidance which is more precise," he added. A retrospective cohort study published in Pain Physician showed significant improvement in pain and function in patients who received ultrasound-guided trochanteric bursa injections, with successful outcomes observed in approximately 80%, 65%, and 56% of patients at the 1, 3, and 6-month follow-up points, respectively.2
However, less therapeutic effect was found in patients who also presented with knee osteoarthritis or pain in the lumbar facet joint or sacroiliac joint.
In highly symptomatic patients, magnetic resonance imaging can help to assess whether there is a significant bursitis or tear in the tendon insertion, and standard radiography can help to rule out intra-articular pathology.
Though rarely warranted, recalcitrant cases of GTPS may require surgery. In these patients, open or endoscopic techniques may be considered. Findings published in July 2016, for instance, report the following overall improvements in patients with GTPS who underwent endoscopic longitudinal vertical iliotibial band release and trochanteric bursectomy: a decrease in mean Visual Analogue Scale values from 7.8 to 2.8 (P <.001); an increase in Oxford Hip Scores from 20.4 to 37.3 ( P <.001), and an increase in International Hip Outcome Tool (iHOT-33) scores from 23.8 to 70.2 ( P <.001).3
Once the patient is able to resume running with minimal discomfort, gait retraining should be implemented, and "running form should be checked to ensure good core and pelvic stability and stride length, and avoiding crossing over to avoid strain to the lateral hip," Dr Luke advised. "Good running technique is important to avoid recurrent symptoms."
Summary and Clinical Applicability
Greater tronchanteric pain syndrome can usually be treated with rest, ice, anti-inflammatories, and physical therapy. Localized steroid injections may also be given for short-term relief, and open or endoscopic surgery may be considered in recalcitrant cases.
Look at this video for recommended physiotherapy exercises for greater trochanteric pain syndrome:
Related Articles
Does Massage Therapy Significantly Improve Function in Patients With Post-Surgical Pain?
Exercise-Induced Hypoalgesia for Neuropathic Pain

Follow @ClinicalPainAdv
References
Redmond JM, Chen AW, Domb BG. Greater Trochanteric Pain Syndrome. J Am Acad Orthop Surg. 2016; 24(4):231-240.

Park KD, Lee WY, Lee J, Park MH, Ahn JK, Park Y. Factors Associated with the Outcome of Ultrasound-Guided Trochanteric Bursa Injection in Greater Trochanteric Pain Syndrome: A Retrospective Cohort Study. Pain Physician. 2016; 19(4):E547-57.

Drummond J, Fary C, Tran P. The outcome of endoscopy for recalcitrant greater trochanteric pain syndrome. Arch Orthop Trauma Surg. 2016; DOI 10.1007/s00402-016-2511-z
Related Topics
Trochanteric Bursitis
Hip Pain
Hip Bursitis
Physical Therapy
Runners
You must be a registered member of Clinical Pain Advisor to post a comment.
<![if !IE]>
Click here to login
|
Click here to register
<![endif]>
Clinical Pain Advisor Articles
Transcranial Direct Current Stimulation Effective on Function, Distress, Depression in Chronic Low Back Pain
Patients Undergoing Thyroid Surgery May Require Few Opioids
FDA Cracks Down on Companies Selling Dietary Supplements Containing Tianeptine
Migraine Associated With Self-Reported ADHD Symptoms in University Students
Pain Profiling May Predict Response to NSAID Plus Paracetamol in Knee Osteoarthritis
Serum Vitamin D Levels and Risk for Migraine
Updated Evidence-Based Recommendations for Buprenorphine Treatment
FDA-Approved Test Provides Pharmacogenetic Reports Directly to Consumers
Business Degree Increasingly Useful for Doctors
Two Screening Tools May Accurately Predict Transition From Acute to Chronic Low Back Pain
Increasing TENS Stimulation Intensity May Benefit Women With Fibromyalgia
Examining the Issues Leading to Market Withdrawal of the Zecuity Patch
Practices Should Set Rules for Staff Social Media Use
Research Links Doctor Burnout to Patient Safety Incidents
FDA Clears nVNS Therapy for Prevention of Cluster Headache
Sign Up for Free e-Newsletters
Check out what's trending
Fibromyalgia
Migraine And Headache
Regulatory Issues
Migraine
Practice Management
Opioid Addiction
Chronic Pain
Migraine & Headache
Rheumatology
More in Sports & Overuse Injury

Treatments Appear No Better Than Placebo for Tennis …

At best, all treatments provide only small pain relief for tennis elbow.

Gluteal Loading Exercise May Not Improve Greater Trochanteric …

Adding an exercise regimen to a comprehensive educational program for the management of greater trochanteric pain syndrome may not bring significant benefit.